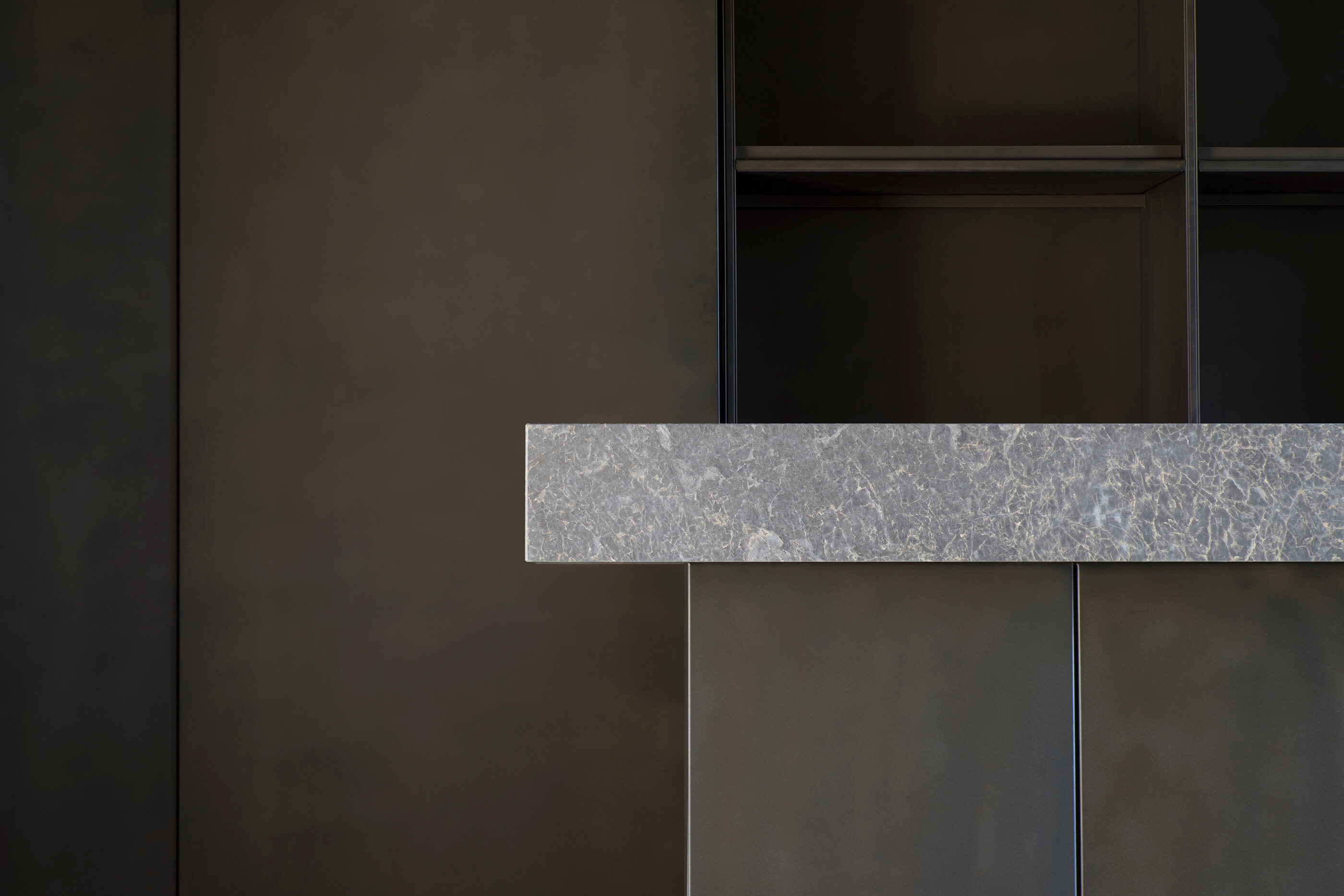 LIKNON
House of Metaxa
---
Location
Vourliotes, Samos
---
Architectural design
K-Studio
Technical design / Construction
QOOP METALWORKS
---
Elements
Bar cladding / Hanging shelves
---
---
At the boundary of a small village in Samos, called Vourliotes, in a parcel that includes a vineyard, an olive grove and a stream, the well known spirits brand Metaxa in collaboration with the architectural practice K-Studio and the construction company Balian, made a space dedicated to the history of the company and specifically to its production process and treatment of its raw material, muschat of Samos.
The gesture that shaped the project is continuation of the stone-walls, that already existed in the site for cultivation reasons, with the aim of spatial formation embedded in the existing landscape.
The visitor is guided to a walk where the project unfolds by a succession of indoor and outdoor spaces made by natural materials, like stone, timber and steel. The completion of this circular route leads in a room built of stone with two sides open , towards the slope and sea view respectively.
Ιn a stonewall recess there is the metal bar, a central architectural piece, made by sheets of oxidized steel. The construction serves as display for the Metaxa labels and also embeds the necessary equipment.
The treatment of the steel sheets followed the central concept that characterizes all the materials of the composition. Rough, almost untreated textures which highlight the process of wear, so as any addition is being presented homogeneous with the existing elements.
Οι επενδύσεις πέρασαν απο διαδικασία οξείδωσης που δημιούρησε πατίνα σε θερμούς και σκούρους τόνους και ταυτόχρονα έσβησε τα σημάδια της βιομηχανικής επεξεργασίας. Μια σειρά απο διαφορετικές τυπολογίες αναδίπλωσης που επιλέχθηκαν για λόγους τεχνικής αρτιότητας και αισθητικής ομοιογένειας εμπλούτισαν τον σχεδιασμό σε επίπεδο λεπτομέρειας. Σημαντικός επίσης ηταν ο ακριβής συντονισμός που περιείχε αποτυπώσεις, υπολογισμούς τεμαχίων και πρόβλεψη ανοχής αφού η κατασκευή περιελάμβανε επι τόπου συναρμολόγηση και επένδυση ήδη τοποθετημένης ξυλουργικής υποδομής.
The claddings passed through process of oxidation that created a patina in warm and dark tones and at the same time erased the signs of industrial production. A series of different typologies of folding, which were selected for reasons of technical integrity and aesthetical continuity, enriched the design in the level of details. Important was the accurate coordination that included surveys, parts calculation and tolerance prediction, as part of the construction was the on site assembling and the cladding of already installed timber structure.